Sarah Brangwynne, MA, LPC, BC-DMT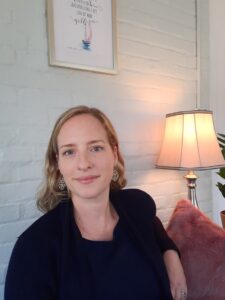 My goal is to help my clients to grow and heal when they are suffering, stuck, or needing help. I believe the therapeutic relationship offers a safe space to learn, share, heal, and create new possibilities.  As a dance/movement therapist I understand the connection between mind and body and believe in the power of movement and body awareness to open our hearts and heal our bodies.
I am board certified as a dance/movement therapist by the American Dance Therapy Association and a licensed professional counselor in the states of NJ and MA. I completed my graduate work in Expressive Therapies, Dance/Movement Therapy and Mental Health Counseling at Lesley University in 2006.  In 2014, I completed the Postpartum Stress Center's graduate training in Postpartum Depression as well as the Postpartum Support International's certificate training in 2016 to better serve women struggling during the perinatal period. I have worked with clients in day treatment centers, schools and in individual and family therapy. I am the co-author of A Sacred Beginning: Nurturing Your Mind, Body, and Spirit During Baby's First Forty Days,  a holistic guide to helping mothers find strength and peace in motherhood.
My Approach
I work together with my clients to establish treatment and overall life goals tailored to each client's needs.  I believe each of us has a purpose in life and we are on a journey to reach our full potential.  Sometimes environmental or biological forces can disrupt this journey and help is necessary. I value my role as a helper and am honored to walk part of the journey with my clients.
I use a combination of psychodynamic and existential approaches as well as cognitive behavior techniques when treating clients. In session I use traditional talk therapy and offer expressive modalities, such as movement and art to further our treatment goals. Of utmost importance is that my clients feel safe and valued in order to do the work that leads to healing and growth.
My door is open to all people. I am honored to help clients of all different backgrounds and beliefs.  My own beliefs and spiritual practices as a Christian help me to be a grounded and present therapist and allow me to hold the needs of my clients so that I can support each client on their path to wholeness.
Save
Save
Save
Save
Save
Save
Save
Save
Save
Save